Drain Buster Rooter & Plumbing Monterey Park
Your Trusted Commercial and Residential Plumbing Specialists In Monterey Park Area
Whether it is a residential or commercial Monterey park property, there's no job too tough for our team of professionals. Our plumbers have nearly 20 years of experience serving the community, so you can rest easy knowing that we will get the job done quickly and right the first time. We use state-of-the-art equipment and expert-proven techniques to offer you superior plumbing and drain solutions. You can count on our expert plumbers to conduct a thorough evaluation and deliver fast, reliable services you can trust. Our services are always backed by a 100% satisfaction guarantee. Plus, our rigorous hiring standards assure you that only the most trusted and dependable service professionals are entering your  Monterey Park home or business.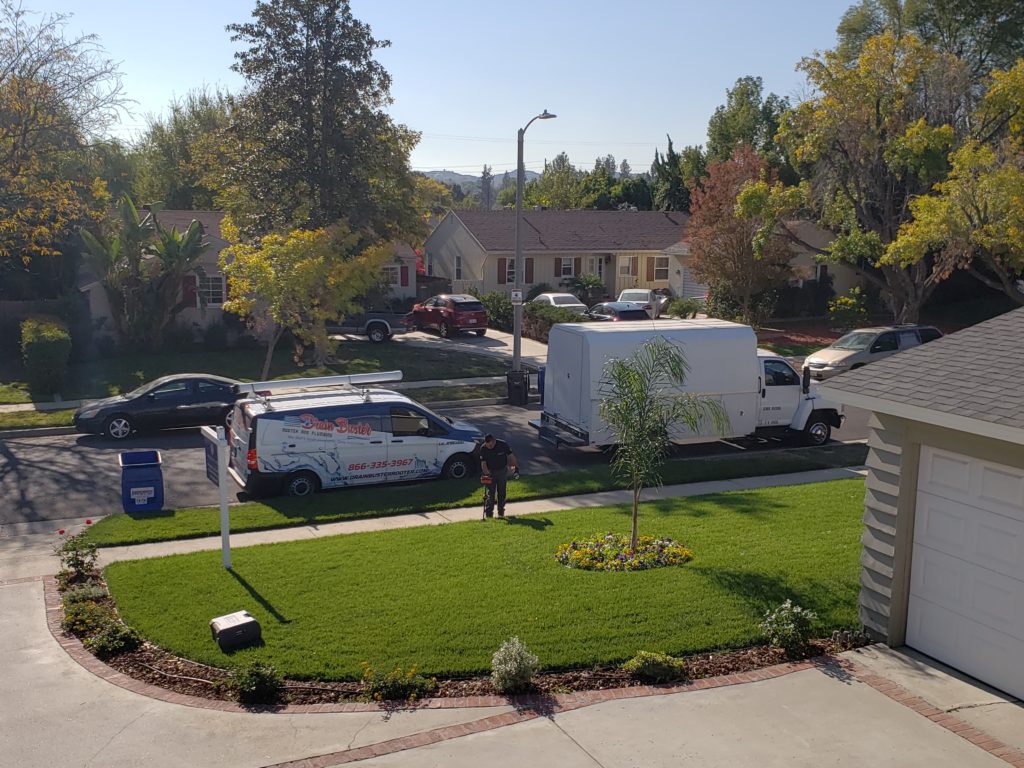 Clean, Prompt and Professional Plumbers MONTEREY PARK
We understand plumbing problems are often the last thing you want to face. When you turn to Drain Buster Rooter and Plumbing, you can expect top-notch plumbing services that are personalized to you. We always arrive on time with our fully loaded work trucks ready to fix all your plumbing problems and needs. We will first investigate the issue(s) and conduct a thorough evaluation. There is often more going on than is visible on the surface. Our reliable inspection process allows us to give you an accurate estimate for the services you need. We are known as the cleanest techs in town, and we put our spotless record on the line with every service call. Before we leave your home, our technicians will clean up as if they were never there.
Drain Busters Plumbers in Monterey Park specializes in residential plumbing services such as tankless water heaters, water softening systems, septic tanks and back flow preventers. Plumber Monterey Park also offers commercial services such as fire sprinkler installation, grease traps and bio diesel tank pumps. Drain Buster Plumber Monterey Park has been serving the south bay area for over 30 years with quality workmanship at an affordable price.
Emergency Plumbing Monterey Park And Beyond
Emergency plumbing services are very important for anyone to have in the house. All of the pipes and valves inside of a person's house can break or burst at any time, so it is crucial that people are always prepared for a plumbing emergency. The pipes in one's home can be susceptible to bursting because they are constantly being used by water and other liquids running through them. A sudden change in temperature could also cause a pipe to burst, which is why people should be sure not to leave the water running while it is freezing outside or if they will not be using any water for an extended period of time. It is important that people hire emergency plumbers when their pipes burst because there may be flooding or other serious damage done inside of their home if this happens during the night, or if no one was home when it happened. When you have a plumber come out and fix your broken pipes, you want them to properly clean up after themselves as well before they leave your property so that you don't have any problems with mold developing later on down the line. It's also important that homeowners call an emergency plumber as soon as possible after noticing something wrong with their plumbing system instead of trying to diagnose what needs fixing on their own because some types of issues require
Drain Cleaning Monterey Park, CA And Beyond
Drain Cleaning is a necessary and important part of maintaining the plumbing in your home. The drain lines in your plumbing system are responsible for carrying away wastewater from sinks, showers, and toilets. Over time, these pipes can get clogged with debris which will cause them to back up and cause a flood in your home if not properly cared for. Drain cleaning may also be required when you've had a major leak that has sopped into the walls or floors of the residence. A residential plumber will usually have to snake out any clogs that have occurred in the pipe work, clean it up thoroughly with chemicals such as bleach or vinegar, flush it out with water using high pressure water jets, vacuum it out to remove all of the dirt from inside of them and then seal off any openings where they think an infrequent problem may happen again.
Gas Line Repair Monterey Park, CA And Beyond
Gas line repair is the process of replacing a damaged or malfunctioning pipe in a home or business with a new one. The pipes in question are natural gas lines. The most common problem that may occur with this type of pipe is corrosion, which will cause it to leak or rupture. This can be hazardous to people and the environment, so it should be fixed as soon as possible by a professional. Gas Line Repair Services -Faulty gas lines are dangerous for people and the environment. They may leak or burst at any time, which would release gas into the air and require repairs from professionals who know what they're doing when working with natural gas pipes -Gas line repair services can fix leaking pipes caused by corrosion, either by fixing them onsite (if they are close enough) or removing them entirely if not.
Hydro Jetting Monterey Park, CA And Beyond
Hydro Jetting is a process that uses water pressure to remove clogs and dirt from the pipes. This process is not as harsh as using chemicals, making it a more eco-friendly option. The first step in Hydro Jetting is to clear debris out of the pipe. Once this has been accomplished, the pipe will be turned on full blast and pressurized water will be shot into it at high speeds to push through any blockages. When this technique is done correctly, it can not only clean up clogs but also remove dirt buildup inside of pipes that could have caused them to become blocked in the first place.
Sewer Camera Inspection Monterey Park, CA And Beyond
Sewer camera inspection is a type of plumbing that is done by specialists. The sewer cameras are used to inspect the inside of pipes in between buildings or from the yard up to the house. The camera has long cable and LED lights that can be sent through any pipe so that it can see what is and isn't inside. Some times sewers will back up, or get clogged and need a professional to come clean them out. A sewer camera inspection will show if there are any old tree roots, grease, debris, or other things in the line which could cause a backup later on when more items collect at this point which may then lead to sewage backing up into your basement or kitchen sink. Sewer camera inspection saves time as well because it shows what's going on right away without having someone go into crawl spaces looking for problems which can take hours sometimes days depending on where the problem is located.
Pipe Bursting Monterey Park, CA And Beyond
Pipe bursting is a trenchless method of replacing existing pipelines. It uses pressurized water jets to create bursts in the pipeline, which separates them from the old pipe. The new pipeline is then pulled through the existing pipe and connected by utility-grade adhesives. This process can be completed in a single day with minimal disruption to landscaping, as it doesn't require digging up driveways or other surfaces. When replacing pipes using this method, homeowners should be aware that gas lines cannot be repaired without being completely replaced, and work may not be completed for some time after permit approval if multiple permits are required for the job.
Trenchless Plumbing Monterey Park, CA And Beyond
Trenchless plumbing refers to the use of pipes that do not need to go under the ground as opposed to traditional plumbing methods. Traditional methods may include digging a trench for pipe installation and backfilling it before completing the project. Trenchless pipes are installed through a process which does not require any digging- simply drilling holes into an already existing structure and inserting a new pipe in place. The advantages of trenchless construction is that it avoids long-term exposure to open, unprotected trenches, which can be dangerous for work crews and damage utility lines located underground. It also reduces noise from construction equipment as no excavating is required, as well as reducing vehicle traffic on site. The process also has environmental benefits by reducing soil erosion during excavation, runoff pollution from rainwater carrying debris into storm drains and sewer systems during heavy rains, and air pollution caused by vehicles idling near highways waiting for traffic lights due to construction delays. The main disadvantages are that the process can be expensive when compared with traditional methods because they involve more time on site while pipes are installed through a series of drill holes rather than just one hole drilled all the way down; there is also increased risk of structural failure if drill holes intersect with an existing pipe or structure within the building being repaired.
Plumbing services in Monterey Park – Residential plumbing specialists.
Our experts can provide solutions to problems with any aspect of your plumbing, from fixtures in your kitchen to a backed-up pipe. our plumbers will bring their extensive knowledge and training to the problem as quickly as possible. They may also be required to make emergency repairs that arise when you least expect them. One thing is for certain: once you have a plumber on the job, you can be sure that things will get taken care of quickly and efficiently.
Monterey Park is a city in Los Angeles County, California, USA. The population was 37,144 at the 2010 census. It was incorporated on April 10, 1957. The city has two public high schools: Monterey Park High School and Montebello High School. The latter is a continuation school for students who have been removed from mainstream high school for behavioral or academic reasons and need additional support to succeed in an academic environment. There are also four middle schools in Monterey Park: El Sereno Middle School (formerly Sierra Vista Middle), Franklin D Roosevelt Middle School (formerly North East Junior High), Garfield Middle School and Huntington Drive Elementary(formerly Belvedere Elementary).
Exceptional Customer Experience All Time
FREE Quotes are available
At Drain Buster Rooter and Plumbing, everything we do is focused on you. As a local, family owned and operated company, we treat our customers as we would our own families. We always treat you and your home or place of business with total respect. We prioritize our customers' safety and satisfaction so much that if you are not satisfied for any reason, we are not satisfied either. We will come back and fix the problem until the job is complete and you have a smile on your face.
*Don't forget to ask us your discount coupon. 
why we chose Drain Buster Rooter and Plumbing?

24 hrs emergency sewer & drain response

On Time & Guaranteed Service

Cost Effective Decisions

Quick & Precise Services
We Keep Our Customers Satisfied
But Don't Just Take Our Word for It!
When you choose Drain Buster Rooter and Plumbing, you can rest assured we always have your best interests at heart. We believe in being honest and upfront with our customers. From the assessment of your problem to the price of the service, you get no surprises with us!
Called them up from learning that a neighbor used them in the past for some plumbing work . My neighbor spoke highly of them and now I know why! Needed my sewer main to be replaced, Jose came out gave me a free estimate. Very nice guy he was , however just to be sure I had to get another quote cause I've been burned in the past. Drain buster Rooter and plumbing's quote came in $2500 less. Do yourself a favor and use these guys! Don't waste your time looking elsewhere! 5stars for drain buster rooter and plumbing !
I had a sewer line stoppage called a company they were ripping me off fired them and found drain busters they came out replaced my sewer line f or a very good price very professional thanks guys
Drain buster saved my day today, I had a sewer problem that other companies quoted me to repair for thousands of dollars but thank GOD I found this honest plumbers and addressed the problem for a fraction of the price, thank you thank you Drain buster I will always recommend you, you're my plumbers for life
Best service ever!! I'm very pleased with the work, service, professionalism I mean everything. They don't cut corners, if they have to go the extra mile they will, They are very professional, knowledgeable doing lining, he described all the steps he was going to take to repair my sewer, I definitely recommend this company, they will give you the best price without sacrifice the quality of the material or work. I'm glad I call them, now I have plumbers for life
We were so impressed with Jerry and his crew at Drain Busters! We had a portion of our main line replaced, and a liner installed. Jerry explained everything to us, showed us samples, was polite, professional, on time, and even came out to clear our line on a stressful Friday night before our project began. Jerry and his team left everything in perfect condition after the project. Drain Busters is a top notch company, and we are forever grateful to them.