Drain Buster Rooter & Plumbing Rosemead
Your Trusted Commercial and Residential Plumbing Specialists Rosemead, CA
Whether it is a residential or commercial Rosemead property, there's no job too tough for our team of professionals. Our plumbers have nearly 20 years of experience serving the community, so you can rest easy knowing that we will get the job done quickly and right the first time. We use state-of-the-art equipment and expert-proven techniques to offer you superior plumbing and drain solutions. You can count on our expert Rosemead, CA plumbers to conduct a thorough evaluation and deliver fast, reliable services you can trust. Our services are always backed by a 100% satisfaction guarantee. Plus, our rigorous hiring standards assure you that only the most trusted and dependable service professionals are entering your Rosemead home or business.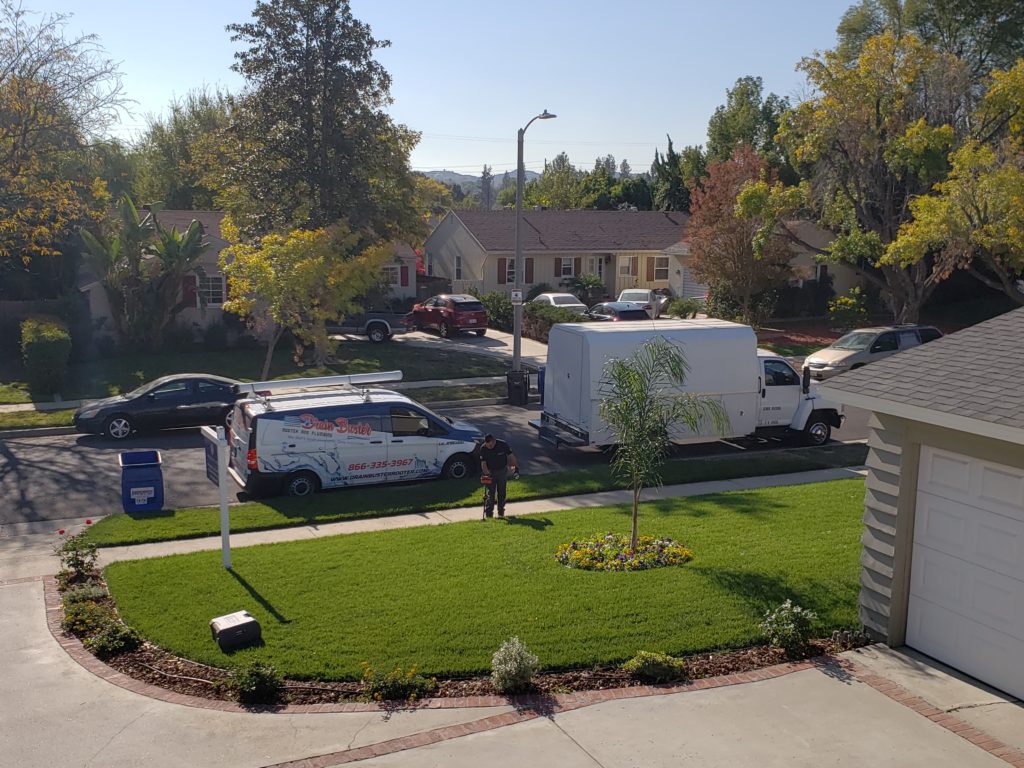 Clean, Prompt and Professional ROSEMEAD Plumbers
We understand plumbing problems are often the last thing you want to face. When you turn to Drain Buster Rooter and Plumbing, you can expect top-notch plumbing services that are personalized to you. We always arrive on time with our fully loaded work trucks ready to fix all your plumbing problems and needs. We will first investigate the issue(s) and conduct a thorough evaluation. There is often more going on than is visible on the surface. Our reliable inspection process allows us to give you an accurate estimate for the services you need. We are known as the cleanest techs in town, and we put our spotless record on the line with every service call. Before we leave your home, our technicians will clean up as if they were never there.
Emergency Plumbing Rosemead And Beyond
Drain Buster Rooter Emergency plumbers in Rosemead are a 24-hour emergency plumbing service that is available for any toilet, faucet, or pipe emergency. Emergency plumbers in Rosemead will not charge an extra fee for weekends and holidays. They provide services to residential and commercial properties throughout the region. They offer an emergency plumbing service to their customers 7 days a week. We can fix your sewer line as well as your dishwasher or garbage disposal! Services include: – Sewer line repair – Drain cleaning – Toilet repair – Tub drain repair – Faucet leak repairs
Drain Cleaning Rosemead, CA And Beyond
Drain Cleaning Drain cleaning is a process of removing blockages from a drain pipe which has been clogged from objects that might have fallen into the drain. One method is to use chemicals to dissolve the blockage and then flush it out with water. Another way is by using a plunger, which applies suction to force the clog out of the pipe. There are also mechanical tools that can be used to loosen or break up any materials blocking the pipe and dislodge it so that gravity will pull it down through the pipe opening. Our Residential Plumbing Specialists In Rosemead offer full service plumbing services including drain cleaning, leak detection, water heater replacement, sewer line inspection and repair, toilet replacement and more.
Gas Line Repair Rosemead, CA And Beyond
Gas line repair is the replacement of a section or sections of pipe that transport natural gas. This can be caused by corrosion, and breakage from earth movement. Gas lines are also broken by contractors working to install new pipes as well as trespassers digging around the area. On an average day, natural gas is moving through these pipes at a rate of more than 2 million cubic feet per hour and is used for heating and cooking in countless homes across America. When a leak occurs, it needs to be addressed quickly before it causes any harm to people and their property. Gas line repairs should only be done by licensed professionals who will ensure safety throughout the process from evaluating the problem to correcting it with steel sleeves or new piping if necessary. These licensed specialists will also have experience in repairing underground piping without interrupting service for customers near your home or business so you don't experience any inconvenience during this time.
Hydro Jetting Rosemead, CA And Beyond
Hydro Jetting, also known as water flushing or hydro-jetting, is a procedure that can be performed on a number of residential plumbing systems. The process involves forcing water at high pressure through an attachment to clean out the inside of pipes. Hydro Jetting can be used to dislodge sediment from sewer lines and flush out debris from household appliances such as dishwashers and washing machines. The process begins by connecting the hose onto the fixture being cleaned or inspected for debris. Household chemicals are not usually necessary, but some companies may use them if customers request it. The homeowner can then turn on their faucet for a steady stream of water pressure and direct it towards the attachment end near the pipe opening from which they would like to remove debris. As soon as this is done, bubbles should start coming out of any traps in the pipe system because they are being filled with water instead of air due to how much force is being applied by hydro jetting action in order to loosen any blockage that may exist in each section which is different than other methods like using chemical drain cleaners since these will only dissolve buildup but will not physically remove it afterwards. While blocking sediments are removed from pipes during this procedure, household chemicals may also
Sewer Camera Inspection Rosemead, CA And Beyond
A sewer camera inspection is a visual examination of your home's waste water system. This process typically requires a licensed plumber and specialized equipment – including a video camera that can be sent down your pipes to take a look at what's going on. It can help you detect some problems such as blockages, leaks, and cracks in the pipe walls before they become too serious and expensive to repair. Sewer camera inspections are usually performed when you're experiencing problems with your plumbing system or when there's been an unusual amount of activity happening in the area (such as after heavy rainstorms). They're also done periodically to check for signs of corrosion or other potential issues. The sewer inspection process starts by clearing everything from the drain line leading outside and then running water through all fixtures, appliances, and faucets inside the home until all standing water has been flushed out through the main drain line leading outside (including removing any aerators from bathroom sinks). Next, the plumber uses specialized equipment – including a video camera that can be sent down your pipes to take a look at what's going on – to examine where there might be blockages, leaks or cracks in the pipe walls before they become too serious and expensive to repair.
Pipe Bursting Rosemead, CA And Beyond
Pipe bursting is a trenchless pipe replacement technique that can be used for replacing existing water, sewer, and gas pipes with new pipes. It does not require digging up the entire street or sidewalk to replace an old pipe. The process starts by excavating one side of the damaged pipe out of the ground. A new "pipe bursting head" is then inserted into the damaged line through a small hole that has been dug just large enough to accommodate it. The old pipe is then pushed out by hydraulic pressure from a pressurized fluid pump to make room for the new pipe in its place. Next, an expanding mandrel inside of an outer pulling sleeve slides over and tightly grips onto what remains of the existing pipe at both ends before it starts to pull outward on it and pushes in on the newly inserted replacement line at both ends simultaneously until finally pulling off what remains of the old line (now acting as an inner sleeve) from around what remains of its original location inside a slightly enlarged opening at each end with only minor excavation required in order to get rid of any excess dirt or debris from around each end. Pipe Bursting One possible option for replacing your existing pipes without digging up your whole property is Pipe Bursting It's also
Trenchless Plumbing Rosemead, CA And Beyond
Trenchless plumbing is also called "no dig" plumbing. This term simply means that no digging or trenching is required to install the pipes. Trenchless technology is used when a pipe needs to be installed through an area that cannot withstand being dug up or where a large trench would have to be dug out in order for the installation of traditional pipe systems. Instead of digging up the land, a narrow trench (approximately 2 inches wide) is created along the proposed route where the installation will take place and then this narrow channel through which they will install the pipes and connect them back together with joints and couplings. There are many benefits to using this technology over traditional methods, including less disruption on property, less risk of water damage, quicker installations, and lower costs for labor because there are no trenches needed for installation. Trenchless plumbing may also be called "no dig" plumbing because it does not need any digging or trenching in order to install pipes. When installing traditional pipeline systems requires excavation of wide areas with high potential for harm such as roadsides and riversides, trenchless technologies can be used instead by creating a tight channel (usually 2 inches wide) down which they will insert piping materials such as joints and couplings.
Plumbing services in Rosemead CA- Residential plumbing specialists.
We offer residential plumbing specialists in Rosemead and surrounding areas to help with the installation, repair, or replacement of just about any type of plumbing system imaginable. Our certified plumbers are available and will come to your residence as soon as you need us. All our jobs are done efficiently and up to standards. The most important aspect when it comes to plumbing is peace of mind that it needs to be installed correctly or repaired properly before you have any issues; which is why we offer service calls that stay within your budget so nothing feels out of reach from you. We also offer free estimates for new customers! We'll be happy to help with anything from installing new appliances all the way down to fixing leaky faucets! You can always count on us for professional, reliable service at affordable prices when you need us most!
Exceptional Customer Experience All Time
FREE Rosemead Plumbing Quotes
At Drain Buster Rooter and Plumbing, everything we do is focused on you. As a local, family owned and operated company, we treat our customers as we would our own families. We always treat you and your home or place of business with total respect. We prioritize our customers' safety and satisfaction so much that if you are not satisfied for any reason, we are not satisfied either. We will come back and fix the problem until the job is complete and you have a smile on your face.
*Don't forget to ask us your discount coupon. 
why we chose Drain Buster Rooter and Plumbing?

24 hrs emergency sewer & drain response

On Time & Guaranteed Service

Cost Effective Decisions

Quick & Precise Services
We Keep Our Customers Satisfied
But Don't Just Take Our Word for It!
When you choose Drain Buster Rooter and Plumbing, you can rest assured we always have your best interests at heart. We believe in being honest and upfront with our customers. From the assessment of your problem to the price of the service, you get no surprises with us!
Called them up from learning that a neighbor used them in the past for some plumbing work . My neighbor spoke highly of them and now I know why! Needed my sewer main to be replaced, Jose came out gave me a free estimate. Very nice guy he was , however just to be sure I had to get another quote cause I've been burned in the past. Drain buster Rooter and plumbing's quote came in $2500 less. Do yourself a favor and use these guys! Don't waste your time looking elsewhere! 5stars for drain buster rooter and plumbing !
I had a sewer line stoppage called a company they were ripping me off fired them and found drain busters they came out replaced my sewer line f or a very good price very professional thanks guys
Drain buster saved my day today, I had a sewer problem that other companies quoted me to repair for thousands of dollars but thank GOD I found this honest plumbers and addressed the problem for a fraction of the price, thank you thank you Drain buster I will always recommend you, you're my plumbers for life
Best service ever!! I'm very pleased with the work, service, professionalism I mean everything. They don't cut corners, if they have to go the extra mile they will, They are very professional, knowledgeable doing lining, he described all the steps he was going to take to repair my sewer, I definitely recommend this company, they will give you the best price without sacrifice the quality of the material or work. I'm glad I call them, now I have plumbers for life
We were so impressed with Jerry and his crew at Drain Busters! We had a portion of our main line replaced, and a liner installed. Jerry explained everything to us, showed us samples, was polite, professional, on time, and even came out to clear our line on a stressful Friday night before our project began. Jerry and his team left everything in perfect condition after the project. Drain Busters is a top notch company, and we are forever grateful to them.